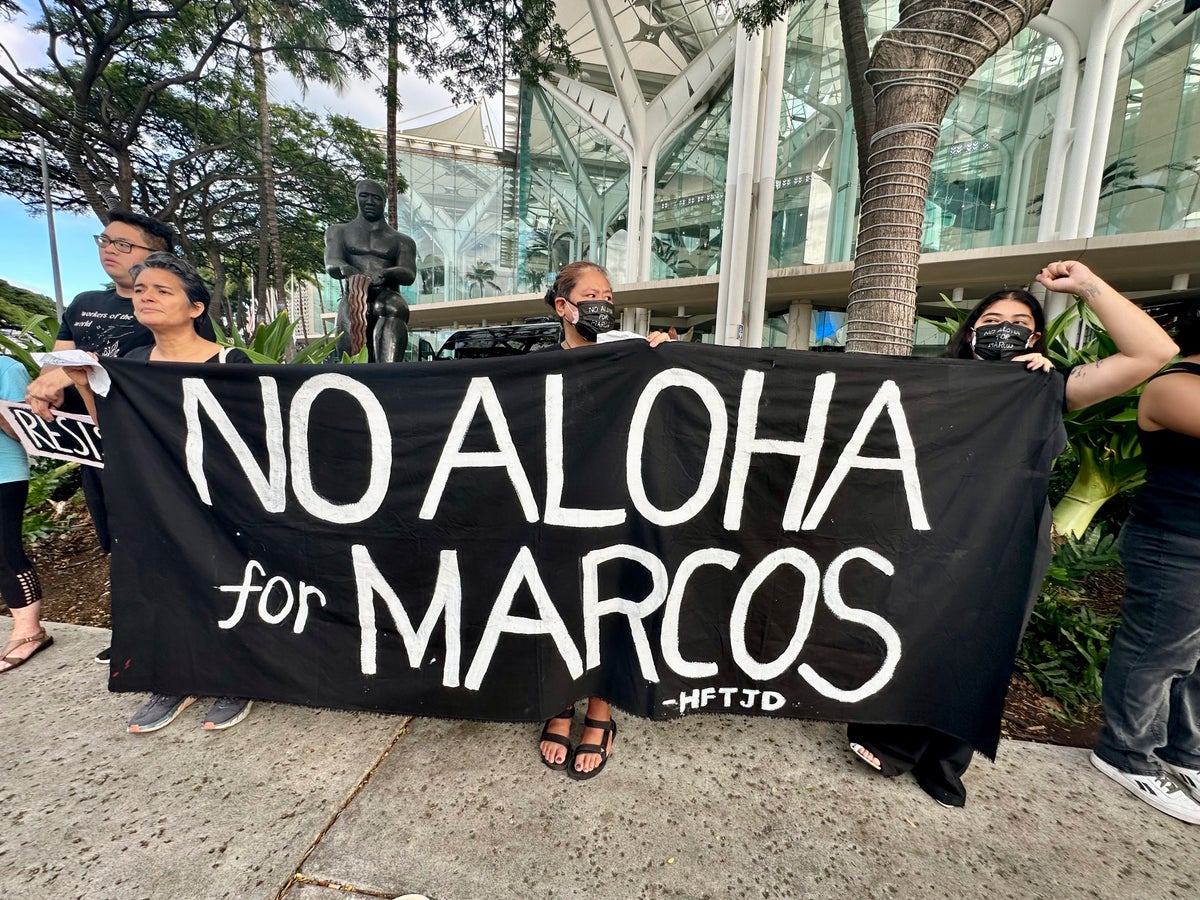 Philippines President Ferdinand Marcos Jr. is meeting with senior U.S. military leaders and members of Hawaii's large Filipino community this weekend in a visit steeped in geopolitical and personal significance for the leader, but also drawing protests from a younger generation of Filipinos who point to the actions of his dictator father who died in exile in Hawaii.
Marcos, who stopped in Hawaii on his way home from the Asia-Pacific Economic Cooperation summit in San Francisco, connected Saturday evening with members of Hawaii's large Filipino-American community before a planned Sunday meeting with Adm. John Aquilino, the top U.S. military commander in the Indo-Pacific region. Marcos is then due to deliver a talk about his nation's security challenges and the role of the Philippines-U.S. alliance.
Protesters gathered outside the community meeting and at the airport where he landed.
Marcos' trip comes at a time when the U.S. and the Philippines have been deepening their long-standing alliance in a shift after Marcos' predecessor, Rodrigo Duterte, nurtured cozy ties with China and Russia.
The Philippines this year agreed to give the U.S. access to four more bases as America looks to deter China's increasingly aggressive actions toward Taiwan and in the South China Sea. In April, the two countries held their largest military exercises in decades.
But the trip also likely has personal resonance for the leader of the Philippines. His father, the late dictator Ferdinand Marcos, died in exile in Honolulu after he was ousted in a 1986 army-backed "people power" uprising.
Many Filipino immigrants in Hawaii also hail from same part of the Philippines as Marcos and revere him and his family. Filipinos are the largest single ethnic group in Hawaii, accounting for 26% of the state's population as of the 2020 census.
Winfred Damo, who immigrated to Honolulu from Marcos' province of Ilocos Norte in 1999, said being Ilocano means "we always support the Marcoses."
The 58-year-old helped campaign for Marcos Jr. in Hawaii and said the president is a different person than his father and from a different era. Philippine nationals living abroad can vote in elections back home.
"We have a better government now in the Philippines," he said. "Marcoses are good people. They did a lot in our country and they are the best."
Not all are Marcos fans. Arcy Imasa organized a protest outside the convention center where Marcos met with community members on Saturday. Her aim was to help younger Filipinos learn his family's history.
Marcos' father placed the Philippines under martial rule in 1972, a year before his term was to expire. He also padlocked Congress, ordered the arrest of political rivals and left-wing activists and ruled by decree.
A Hawaii court found the senior Marcos liable for human rights violations and awarded $2 billion from his estate to compensate more than 9,000 Filipinos who filed a lawsuit against him for torture, incarceration, extrajudicial killings and disappearances.
Imasa, 40, who is part of Hawaii Filipinos for Truth, Justice and Democracy and grew up in the Ilocos province of Pangasinan, said the mindset of many Filipinos in Hawaii is fixed, especially those of older generations.
"They're not on the right side of history. They're not fully aware of the crimes that transpired," she said.
Satu Limaye, the vice president of the East-West Center, noted the U.S. and the Philippines have a long, complicated relationship. He pointed to years when the U.S. ruled the archipelago as a colony, when the two nations signed a mutual defense treaty in 1951 and when the U.S. military withdrew from major bases in the country in the 1990s.
Duterte was often critical of the U.S., at times questioning the value of the alliance and demanding more military aid to preserve the pact. Under Marcos there has been a "180-degree turn" and a massive change in cooperation and coordination with the U.S., Limaye said.
China has laid sweeping territorial claims over virtually the entire South China Sea, areas also claimed by the Philippines, Vietnam, Malaysia, Brunei and Taiwan.
China has clashed with its smaller neighbors and subsequently drawn in the U.S., which is Manila's treaty ally and China's main rival in the Asia-Pacific region. Washington and its allies have deployed navy ships and fighter aircraft to promote freedom of navigation and overflight, build up deterrence and reassure allies.
Earlier this month, dozens of Chinese coast guard and accompanying ships chased and encircled Philippine vessels during a four-hour faceoff.
Marcos in September said his country does not want a confrontation but will defend its waters after its coast guard dismantled a floating barrier placed by China at a disputed shoal.
Limaye said it's important to watch how the U.S. and the Philippines manage their nations' long and complex relationship while facing their common concern, China.